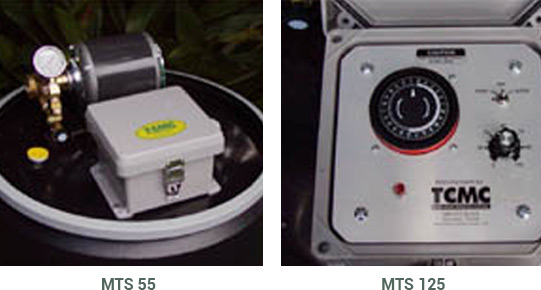 The Mosquito Company has manufactured our own mosquito control products for customers in the Houston and Austin, Texas area since the year 2000. Because we manufacture our own systems, we understand our products on a more intimate level when compared to other installers. That means we are not only better equipped to troubleshoot problems when they arise, but we take into account your environment when installing your system to limit the possibilities of system failures. Hence, our products will always be installed correctly to ensure that your outdoor space stays mosquito free. Additionally, our tight-knit team is readily available to answer questions that you have about which product is right for you.
Our self-designed system's basic design comes in a 55 and 125-gallon version. Both of these options are designed to be a long-term solution for mosquito control, however, you should get in touch with us to better determine which size is best suited for your needs.
Our systems boast a variety of features that make them ideal solutions for Austin and Houston mosquito control, including:
All of our systems are operated by a mechanical timer with a remote control that will allow you to make adjustments to the device from a distance.
These mechanical timers are designed to be intuitive and easy to program and operate.
Our products are some of the most reliable mosquito misting systems on the market.
The Mosquito Company uses the highest quality components available to ensure a longer life and lower the maintenance that any other system.
Additionally, each system comes standard with dual check valves, remote control, weatherproof cover and choice of tank size. We also offer a full line of parts and accessories to compliment our misting systems.
We have two size nozzles to choose from – standard and slim line. While both of these nozzles are great choices, the experts at The Mosquito Company will shed more light on which nozzle is ideal for your needs. Each has a stainless steel construction with built-in anti-drip valves. 
Contact Us!
Our complete line of systems, tanks, and accessories allows The Mosquito Company and its Dealers to custom design a spray system that meets the specific needs of our commercial and residential users. If you have any questions about our mosquito control systems in Houston and Austin, give Houston a call at (713) 468-1980, Austin a call at (512) 506-9411, or contact us online. We look forward to helping you rid your property of mosquitos!